How To Transport A Kayak With an RV? (6 Tips)
Are you having trouble deciding whether or not to bring a kayak with you on your next RV trip?
Before choosing which transportation method is right for your kayak, you need to find out if your camper can handle the extra weight of kayak racks.
Options for transporting one or more kayaks with an RV include a kayak rack, roof rails, a kayak trailer, a ceiling hoist, a ladder rack, or opting for an inflatable kayak. You also need to consider the weight capacity of your vehicle, as well as the materials of your equipment, and whether you intend to transport other items as well.
We have looked into a few different possibilities for transporting a kayak with your RV.
These options are simple to understand and implement, so you can enjoy your trip without worry!
How To Transport A Kayak With an RV?
1. Using A Kayak Rack
Kayak racks are one of the simplest ways to transport your kayak from one place to another.
You can easily find an RV kayak rack, which is similar to a bike rack, in that it will fit onto an RV hitch and keep your kayaks safe during your drive.
Remember that you'll need a hitch mount on your vehicle in order to use some types of RV kayak racks, so make sure to install one if your RV isn't already equipped with the correct type of mount.
If you need to access a storage area on the back of your RV regularly, consider purchasing hitch receiver swing arms.
These allow you to swing the load on the hitch out of the way, opening up access to the back of the RV.
You can also use an RV roof rack, but keep in mind that you'll need to be able to lift and carry kayaks all the way up to the roof racks.
Using an RV roof rack can present a challenge for many people, simply because it can be so difficult to lift the kayak onto the roof.
Things To Remember
When you're trying to find the best kayak rack for your needs, you need to choose one that fits your vehicle's requirements.
For starters, a hitch-mounted rack should fit securely onto your RV hitch.
Secondly, the kayak rack should be sturdy and secure enough to keep the kayak balanced.
Keep in mind that if you have long kayaks, a hitch-mounted RV kayak rack may not work, because the kayaks may stick out too far on each side of your vehicle.
2. Roof Rails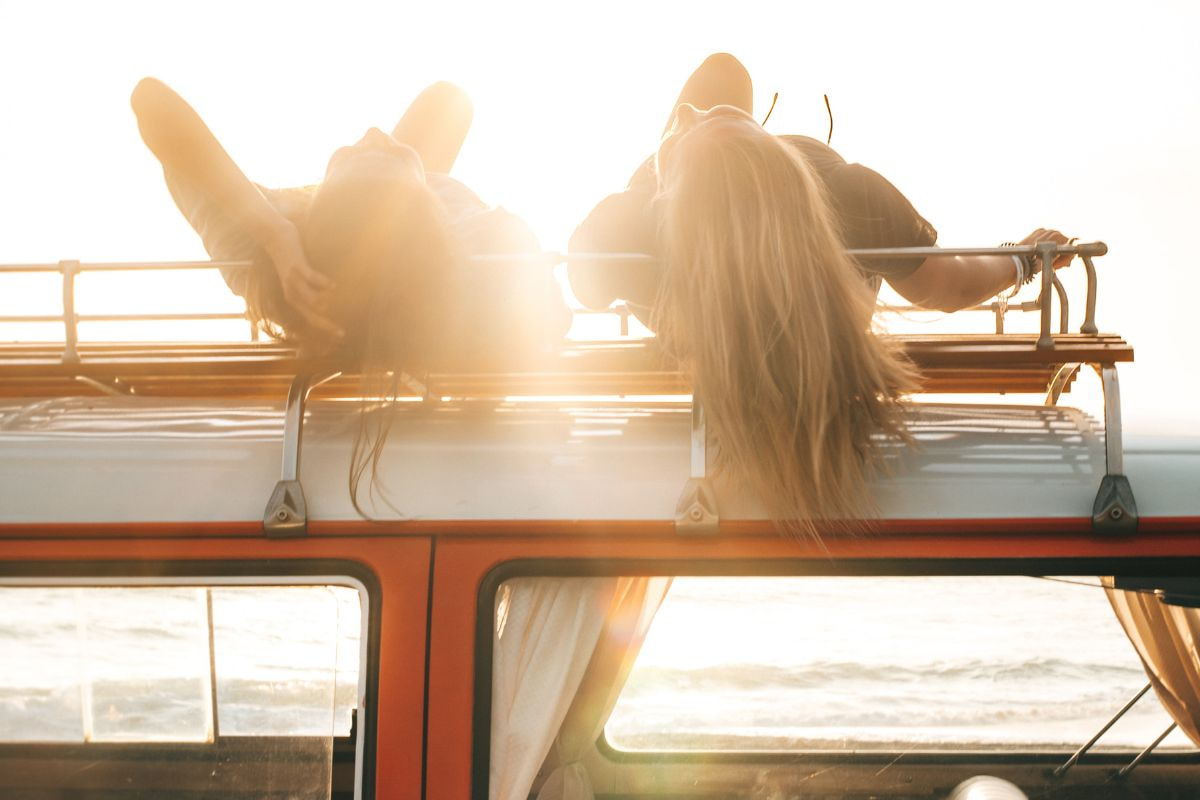 If a roof rack doesn't quite suit your needs, you can opt for roof rails to transport your kayaks instead.
The best thing about using roof rails is that you can use them to transport several items at once, which makes these bars a worthwhile investment.
You may want to look for a protective cradle to set under your kayak when using roof rails, so the boat doesn't rest directly on your vehicle's roof.
Overall, roof rails are a secure means of transporting your kayak.
These bars also give you enough room to fit at least two kayaks, and sometimes even more, which can come in handy for couples and families.
Things To Remember
When choosing a roof rail to transport kayaks, make sure it's made from a high-quality material and can provide a secure hold on your kayak.
Uneven or low-quality bars often do more harm than good, so it's best to go ahead and invest in high-quality, secure roof mounts.
Something else to remember is that you must tie your kayak to the roof rails tightly and securely for maximum protection – this ensures that the kayak maintains its position on the vehicle, even at high speeds or on bumpy roads.
3. Kayak Trailers
If you're concerned about how you'll get your kayak up onto a rooftop rack, a trailer can be a more viable option to consider instead.
Most kayak trailers also allow you to carry at least two kayaks, or sometimes even more.
Kayak trailers are possibly the most convenient kayak carrying method, in terms of loading and unloading your boat.
Things To Remember
It's important to note that these trailers are a little more pricey than your average kayak rack – so, before you buy a kayak trailer, make sure it's a good investment.
Many kayak trailers can be pulled by a variety of vehicles, including an RV or a pickup truck, which may be handy if you also want to use your kayaks without your RV sometimes.
4. Ceiling Hoist
When discussing how to transport a kayak with an RV, we can't forget the ceiling hoist.
If you have no other option, you can use a ceiling hoist to carry your kayak underneath the roof of your RV, inside the vehicle.
If you have high ceilings inside your travel trailer and you prefer not to transport your kayak outside your RV, this option may work for you.
However, using a ceiling mount to carry kayaks inside an RV is not necessarily an ideal solution because it requires solid mounting, and very sturdy construction, in order to work efficiently.
Ceiling hoists can also be a bit pricey, and oftentimes there isn't sufficient room for two kayaks inside a travel trailer.
That's why this carrying method can pose challenges, and is thus not often recommended as a first choice for transporting kayaks.
5. Inflatable Kayaks
If you're short on space, inflatable kayaks are the best option.
These boats are a great solution for people with a small-sized travel trailer, especially those who need to carry two kayaks or more.
Here are some advantages of inflatable kayaks as compared to hard-shelled, full-sized kayaks:
Inflatable kayaks are light-weight, making them easy to carry and extremely portable.
The ability to deflate them for transport effectively eliminates the need for a kayak carrier.
You can easily carry inflatable kayaks in their original packaging – furthermore, you can fold them into a smaller size as well.
You can pack your inflatable kayak into a bag and store it inside a closet or storage area in your RV, which means you don't need to purchase or install any mounting hardware to transport it.
There are various brands and models of inflatable kayaks available in both online and in stores.
You can find inflatable tandem models, whitewater varieties, and more, so make sure you choose the most suitable one for you.
Things To Remember
If you're traveling with an inflatable kayak, don't forget to pack a repair kit.
You might need it in case of an emergency, so it is always best to pack one before heading out on your trip.
6. Ladder Rack
You can always invest in a regular rack, like a ladder rack, to transport your kayak.
Since it will be installed in the bed of your tow vehicle, you won't technically be carrying your kayak on your RV.
This can be convenient if you want to transport your kayak in your towing vehicle sometimes, when you're not towing your RV.
Ladder racks are also relatively inexpensive and well-known in the kayak community as some of the best kayak racks you can purchase.
Ladder racks are easy to use – you simply secure your kayak using ratchet straps.
Make sure to tie knots securely so your kayak stays in place.
Sufficient safety can be provided by using straps that have a locking mechanism, such as bicycle locks.
Keep in mind, though, that if you have a fifth wheel and possibly tow a small car, this method will not work for you, since it requires you to have a pickup truck that you use to pull your trailer.
Features To Look For In Mounting System
Folding Options
Some kayak racks can be folded down when not in use.
Hitch-mounted racks, for example, can often be removed from the travel trailer and folded when you don't need them.
A rack that doesn't fold down might take up extra space and be an added hassle during your trip.
Easy-To-Mount
Your rack should be easy to install.
Look at reviews for various racks online to see what other customers have to say about the ease of installation.
Make sure that the size of the rack is compatible with your travel trailer or fifth wheel.
The roof of your RV has a strict weight capacity, so check the maximum weight that it can carry before deciding on a roof rack.
As mentioned previously, some racks use a hitch mount – you'll want to make sure your travel trailer or fifth wheel is equipped with the right hitch to allow for easy installation.
Strength Of The Rack
The construction of the rack is fundamental, make sure you don't ignore this step.
Your rack should have heavy metal tubing construction.
The strength of metal will prevent easy bending of the rack under a considerable weight or heavy load.
Of course, the more heavy-duty the construction, the more the rack will also weigh.
Always ensure that your vehicle roof can support the weight of the rack plus the kayak(s).
Easy Loading And Unloading Options
Why is this important?
You may be loading and unloading your kayak several times during your trip, especially if you take frequent camping trips and road trips!
If your rack doesn't allow for easy loading and unloading, it will be problematic.
Trying to load kayaks on the roof of a fifth wheel can be complicated and, in some cases, even painful if you're transporting heavy boats.
If you choose a rack that makes it difficult for you to load your kayak, either your kayak or your travel trailer could get damaged during the process.
So, make sure you check the loading and unloading features before you purchase any racks.
Carrying Multiple Kayaks Or Other Items
You'll also want to think about the capacity of the rack.
There are plenty of racks available on the market that have ample room for different items.
Some racks have room for up to four kayaks!
Some carriers are also equipped to carry your luggage or other items.
Find out the space and capacity your rack will provide.
Most people look for a rack that can accommodate both kayaks and other additional items as well.
Material Of The Rack
Don't forget to check the material of the mounting system – mounting racks can come in stainless steel and other materials.
Stainless steel is often the best option because it lasts longer than other materials, stands up to wear and tear, and it is usually rust-resistant.
Can You Transport Kayaks On Top Of an RV?
Yes, many travel trailers come equipped to accommodate roof-mounted items and carriers.
The number of kayaks you can carry on top of your travel trailer or fifth wheel will depend on the weight capacity of your RV's roof.
In order to transport kayaks on the roof of your RV, you'll need either a roof rack or roof rails.
If you use roof rails, you can put luggage and other items up there along with your kayak.
The hardest part of using roof rails for kayaks is just getting the kayaks up onto the roof.
If you have lightweight kayaks, and a helper or two to help you get them up there, these rails can be a great choice for kayak transportation.
Conclusion
There are a wide variety of options on the market when it comes to transporting kayaks, so analyze your options carefully to ensure that you're buying a product that fits your needs perfectly.
We hope this overview of options for transporting a kayak with your RV has given you some ideas about how you can transport your boat(s) on your next adventure.